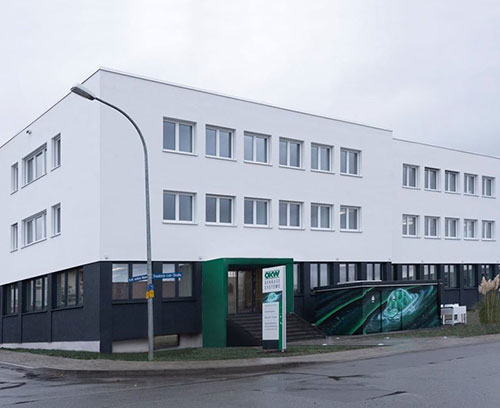 January 2020
After a two-year planning and construction phase, the move to the new administration building took place on Saturday, 30th November. This is located directly next to the previous headquarters of Odenwälder Kunststoffwerke Gehäusesysteme GmbH in Friedrich-List-Strasse in Buchen.

"Innovation with tradition" – this philosophy of the family-owned business, which has been based in Buchen since 1984, is the thread running through the construction project. It was important to preserve the basic structure of the building, which was built in the 1950s by Dr. Herbert Schneider, the grandfather of today's managing director Christoph Schneider.
"It is important for us to keep today's generations aware of the family and company history. This is the intention behind our OKW Museum, which has existed for many years and which covers the history of the company from its foundation to the present day. Not only the products, but above all the people, have made possible the basis on which we invest today for the future. In our new building there will therefore also be 'windows into the past' as reminders. We are very proud of the result – the combination of stable old stock and the latest technologies concerning climate and energy," says Managing Director Christoph Schneider.

In the previous office building, the individual departments were separated from each other by several building sections and very long walking distances. All administrative departments have now been brought together in a clear spatial structure. In addition to attractive workplaces, central communication points have also been set up to focus even more on cooperation in a pleasant environment.
At the same time, a further construction phase has already been started to link the administrative area with the production and logistics areas. A spacious lecture room, a presentation area for enclosures and tuning knobs as well as a common canteen are to be created here.

"According to the idea, there will be a connecting wing in the truest sense of the word. A space is to be created to serve as a meeting place for employees as well as national and international customers and partners for presentations, training sessions or simply for a chat over lunch. Even in times of digital communication media, we want to focus on the value of personal contacts," says Yvonne Ellwanger, authorised signatory.