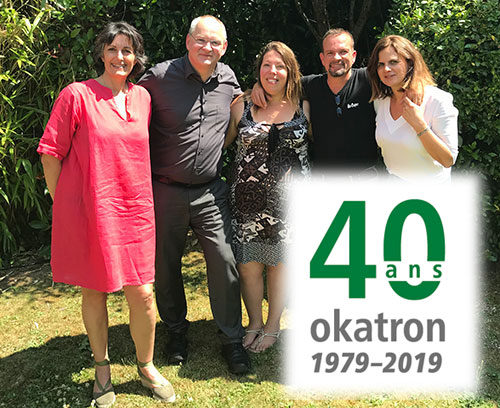 August 2019
40 years okatron - 1979-2019
In 1979 the Schneider family started the okatron S.A. project together with three French partners: after the existing Paris-based distributor filed for insolvency and his employees were threatened with dismissal, OKW solved the problem by founding its own sales company on 8 April 1979. In the middle of turbulent Paris in the Rue Jean Jaures – with the participation of former employees of this partner.
Among them was Claude Steinmuller, who was initially hired as an expert for sales in the French market and who gradually took over the sole management of the company and successfully built up a sales network with offices in Lyon and Toulouse. In addition, he continuously expanded the product range, the sales brands and the workforce. The company headquarters were relocated to Villepinte on the outskirts of Paris.
In 2007, Claude Steinmuller cleared the way for the next generation: Christelle Goix, who had been close to the company for many years as an IT specialist and consultant, and who switched completely to okatron sales in 2006, took over the management. She refocused the company, its employees, infrastructure and processes on sales work on the market and on the projects of over 5.700 customers in France.
In this way, okatron sas consistently increased the sales of OKW and its other brands to a level of just under 2.2 million euro today. A separate modern building in Bussy Saint Georges was acquired using the company's own funds, and was occupied in 2012.
The technical consulting service for customers in their enclosure projects from the product range and in individualisation is today the core competence of okatron on the market, and also represents the benchmark in the international comparison of the sales companies of the group. For our customers in France, the name okatron sas has been a synonym for enclosure solutions for 40 years.
Congratulations to our team in Bussy and thanks to all the loyal companions and partners of our okatron!