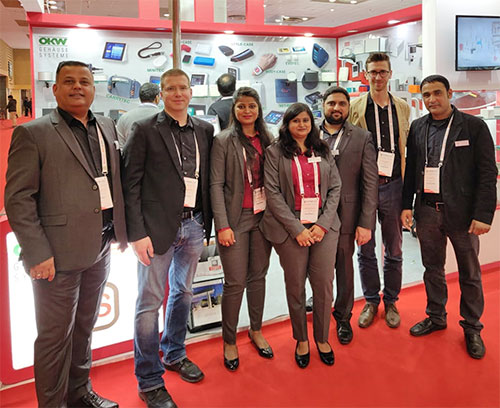 February 2020
OKW Gehäusesysteme participated in the ELECRAMA trade fair in New Delhi in cooperation with the Indian representative "Enclosure Systems India" from 18-22.01.2020.
Under the heading "we are all about electricity", ELECRAMA is the largest trade fair for electronic components in India and has been held every two years in changing cities in the country for the past 30 years. 1,250 exhibitors from a wide range of electronic sectors were spread over 16 exhibition halls and attracted more than 300,000 visitors in 5 days.
On the joint stand, OKW, together with its local representative, was able to present its extensive portfolio of high-quality plastic and aluminium enclosures and tuning knobs to the Indian public. The range of design-oriented standard enclosures in particular attracted a lot of interest among many Indian visitors. There was a large number of visitors at the exhibition stand, and some interesting new contacts were generated for the Indian market.