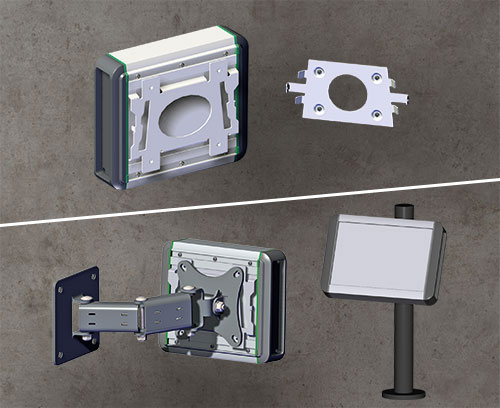 February 2022
The VESA standard is used in many suspension arm and wall suspension systems to attach devices to them easily and securely.
On request and in conjunction with the SMART-TERMINAL enclosure, OKW can now offer a 2-part wall suspension element made of anodised sheet aluminium in accordance with the VESA 100x100 standard.
Installing the VESA adapter is quite simple: slide it sideways into the existing grooves on the rear side of the enclosure, then screw the plastic covers with design seals or the aluminium end plates to the aluminium profile. The unit can then be installed on the wall (wall plate from the 2-part set).
To lead the cables through, both the VESA adapter and the wall plate have corresponding cutouts, thus allowing the unit to be connected at the rear.
If required, SMART-TERMINAL enclosures can also be mounted directly on commercially available swivel arms and wall suspension systems with 100x100 mounting holes using the VESA adapter.
Thanks to the bracket, the attractive aluminium profile enclosures are versatile in use and easy for the user to operate and read – specifically adapted to the application in question.
Simply ask our experts. We shall be pleased to advise you!