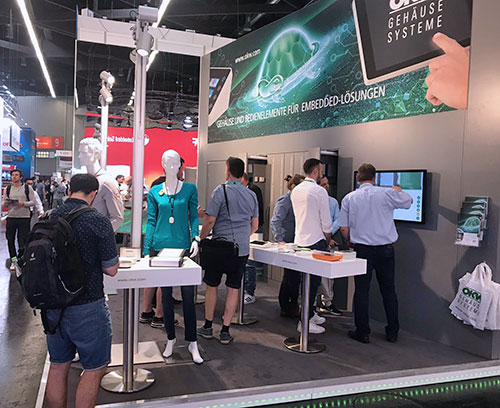 July 2022
OKW Gehäusesysteme participated in the embedded world trade fair in Nuremberg from 21st to 23rd June 2022. With 720 exhibitors from more than 39 countries and 18,000 visitors, the fair was very well attended. The event focused on the latest trends in embedded technologies, from components, modules and complete systems through operating systems and software, hardware and software tools to comprehensive services.
The OKW portfolio includes high-quality plastic and aluminium enclosures as well as operating elements for intelligent communication between networked systems. The enclosures are characterised by generously dimensioned interface surfaces for connecting peripheral components and a high level of flexibility. These factors help to create embedded solutions for digital transformation that offer effective interaction in data acquisition, processing and transmission. Each enclosure range is uniquely designed for different disciplines, and the tuning knobs ensure precise control and regulation.
"The main focus of our visitors was on display enclosures as wall-mounted and table-top versions, as well as enclosures for modern sensor applications. We are very satisfied and will therefore be back again next year", said Michael Reimold, deputy Sales and Marketing Manager at OKW Gehäusesysteme.