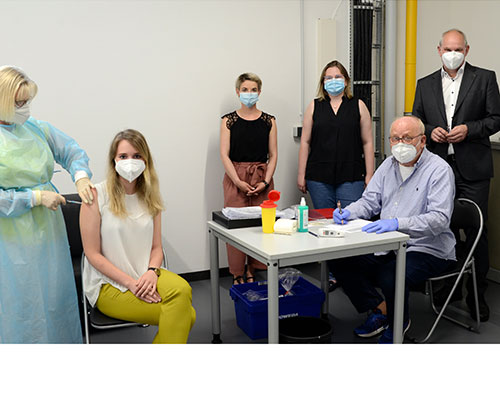 June 2021
OKW vaccinates its employees on site against COVID-19
As of 7 June 2021, the priority regulations for vaccinations came to an end in Baden-Württemberg, and company doctors can now vaccinate within companies. OKW Gehäusesysteme reacted immediately and offered to vaccinate all its employees in administration, logistics and production against COVID-19.
OKW decided to do the job properly – OKW employees can be vaccinated against Corona in their own company. Of the approximately 124 employees, around half have not yet been vaccinated, and have gladly accepted the offer. The first doses of the mRNA vaccine from BioNTech/Pfizer have already arrived and are being injected under the direction of Dr. Michael Mikolaiczik, a long-standing company doctor. First there was the information sheet on the vaccination against COVID-19, then the questionnaire on medical history and the consent form. In addition to the documents, the company doctor also offers personal consultation and answers all questions that may still be unanswered.
"Since February we have been waiting for this opportunity and working on the preparations – and now we are overjoyed, proud and relieved that vaccination can finally start for everyone in the OKW family – directly at the workplace, so to speak," says Managing Director Christoph Schneider.
The dates for the first vaccinations are Wednesday, 16.06. and Saturday, 19.06. Vaccination is carried out in the first-aid room, which is located in the new administration building - next to the "Turtle" - in Friedrich-List-Strasse. To rule out any possible reactions to the vaccine, each employee is then observed by a doctor for a certain period of time. The second vaccination is then scheduled for July. In addition to OKW itself, the entire workforce of the OKW Group at the Buchen and Schlierstadt locations will also receive a vaccination offer.
Since the onset of the COVID-19 lung disease, OKW Gehäusesysteme has produced more high-quality enclosures than ever for medical applications, as well as tuning knobs, which are essential for the operation and control of ventilators, for example. As a result, OKW was granted the status of a systemically important KRITIS company as early as April 2020.