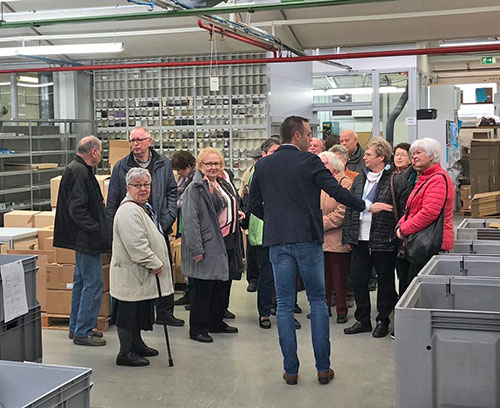 09.03.2018
Going back in time – visit by OKW pensioners
On Thursday, 08.03.2018 there was a touch of nostalgia in the air. The pensioners of the OKW group visited the enclosure manufacturer at its headquarters in Buchen.
A total of 20 sprightly pensioners went on a fascinating tour through the premises of OKW Gehäusesysteme. In addition to the review of the beginnings of the company, which most of the former employees still remember very well, there were also insights into the diverse company highlights of the last few years, the product portfolio from yesterday to today and into the current logistics processes as well as the finishing of the enclosures and tuning knobs.
The visitors took the time to share old memories, and on their way through the company, former OKW colleagues who are still active in the organization were also recognised.
After the interesting and informative tour of the OKW company building, the afternoon came to an end with a pleasant get-together.